If you've been curious about the benefits of facial treatments and the longevity of radiant skin, you're in the right place. Apart from maintaining a healthy diet, staying hydrated, and getting enough sleep, there are additional ways to enhance your skin care routine. Today, we're here to answer your questions and provide the assistance you need.
Whether you've tried a medical-grade facial or spa facial, or you're completely new to the skin rejuvenation realm, we are happy to ease you into a skin care routine that will leave your skin feeling and looking better as you age.
At Beacon Dermatology, we pride ourselves on giving our patients personalized care. From customized facial treatments to skin tightening methods. Each patient's treatment plan is specific to their skin type, needs, and goals. We want to be known as the office that goes above and beyond.
With that, we integrate cutting-edge technology to enhance the patient's experience and improve efficiency without losing the human touch. This is why it's important for us to choose a medical facial treatment that can provide safe, effective, and beautiful results specific to each patient.
Custom facials, Bela MD Dermal Infused Microdermabrasion, and peels are a great starting point to introduce your skin to a world of corrective benefits. These treatments will help you with pigmentation, sun damage, dull skin, uneven tone and texture, or simply to maintain beautiful and glowing skin.
At Beacon Dermatology, our skin care experts will assess your skin to determine the type of facial best suited for your skin concerns and long-term goals. This guide will navigate you through results-driven medical-grade facials, peels, and microdermabrasion offered in our clinic.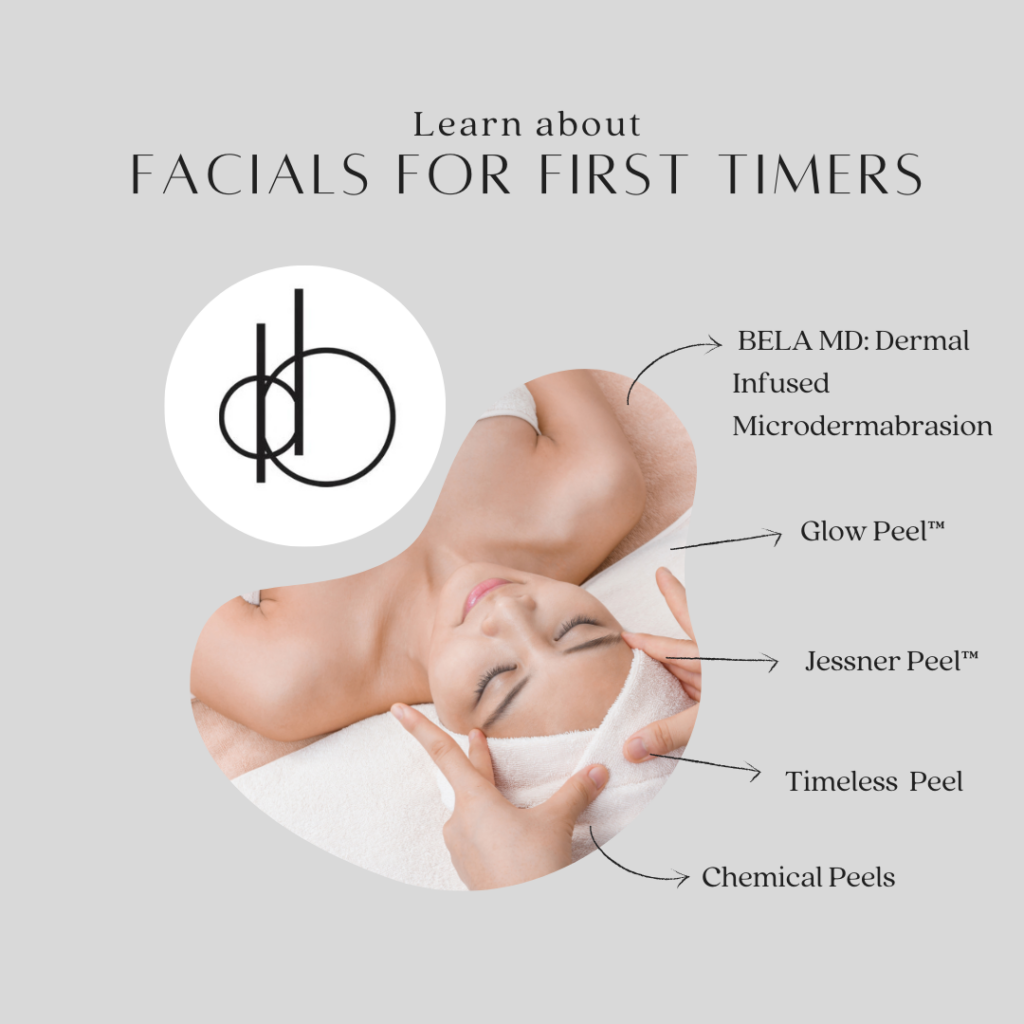 Rejuvenating Facials for First Timers
Medical-grade facials are administered by medical aestheticians, guided by physician-led protocols. This distinction allows our treatment providers to use clinic-grade solutions for treating deeper onto the skin (epidermis), which is not normally performed in a spa.
Medical-grade facials are customized for your comfort level and skin concerns. This can range from a chemical peel to microdermabrasion treatments to minimally invasive meso-needling techniques.
Timeless Peel
The Timeless Peel is a clinic-exclusive peel combining PCA Chemical Peel plus Meso Needling with NCTF Boost. This unique peel features a superficial glycolic acid peel to resurface the skin in conjunction with salicylic acid and other fruit acids. Followed by the Meso-needling treatment, which addresses the middle ("meso") layer of the skin to give your skin an inside-out boost.
Meso-needling, also known as Mesotherapy, is an innovative device that combines a bespoke formula of powerful antioxidants, vitamins, minerals, and amino acids.
The NCTF boost is a unique and complex skin booster. It nourishes the skin by providing the ingredients that it needs to thrive. This booster contains hyaluronic acid, adding hydration and volume to the skin.
Experience the power of the Timeless Peel, a solution that effectively targets both early and advanced signs of aging, sun damage, and helps you achieve and maintain youthful, radiant skin!
Glow Peel™ & Jessner Peel™
These signature peels are designed to address varying skin concerns such as hyperpigmentation, PIH acne scars, active acne, sun damage, and lacklustre skin. Our expert medical aestheticians and certified laser technicians will discuss your skin goals and concerns before determining which peel best suits your needs.
These peels are formulated with glycolic acid, lactic acid, malic acid, citric acid, and tartaric acid. These are derived from fruit and milk acids, commonly known as Alpha-hydroxy Acid (AHA).
What To Expect During A Glow Peel™ & Jessner Peel™
The peel starts with a cleanse to gently remove dirt and product buildup, followed by a customized exfoliating peel specific to your skin needs.
Finally, your treatment provider will gently massage serums and moisturizers to hydrate, replenish, and improve drainage in your skin.
Expect your skin to look blush-pink following the treatment; however, you will be enjoying a smooth, radiant glow after the initial peeling of the skin.
Maintain this glow by being consistent with your skincare routine. Use antioxidant serums, retinol, glycolic, and of course, SPF.
Consistency is key to medical-grade facials if you have a specific skin goal in mind. Your clinician will suggest the best interval between treatments, though a monthly appointment is typical for cumulative benefits.
BELA MD Facial
Bela MD is a multi-step facial that includes cleansing, microdermabrasion, serum infusion, and electroporation all in one go. If you are struggling with the appearance of large pores, blackheads, and overproduction of sebum, the BELA MD facial is a great treatment to start with.
What To Expect During A BELA MD Facial
It starts with using diamond microdermabrasion to unclog congested pores and draw out dead skin cells. Followed by hydrogen therapy to neutralize free radicals and reduce inflammation while boosting brightness and hydration.
Next is a relaxing application of bio-infused serums while simultaneously using electroporation for enhanced serum absorption. Finally, we finish your medical-grade facial by using microcurrents to provide deep muscle stimulation and promote lymphatic drainage.
You will need several sessions of BELA MD to notice long-term results. However, if you want an instant rejuvenation treatment without downtime, this would be perfect! We recommend this treatment for those preparing for a wedding or a big social event, such as birthdays, reunions, conferences, or before and after travelling.
Due to its skin health benefits, this treatment can be combined with other minimally invasive treatments such as Intense Pulse Light (IPL), BroadBand Light (BBL), or the Pico laser treatment to boost results from these treatments.
Prolong the benefits of your medical-grade facial by being diligent with your skincare routine - day and night. Consistency is key to maintaining longer-lasting results.
Dermaplaning
Dermaplaning, also known as epidermal levelling, is an exfoliation treatment. This is an excellent alternative for those who cannot tolerate glycolic acid peels and/or microdermabrasion. Dermaplaning is a good option for those with extremely sensitive skin and those looking to remove their peach fuzz. It is also a safe exfoliation option for pregnant and breastfeeding women because it does not use any acids.
What To Expect During A Dermaplaning Treatment
The treatment uses a surgical blade to gently exfoliate dead skin cells in the epidermis while removing fine hair, commonly known as "peach fuzz," which can trap excess dirt and oil. A noticeable improvement is immediate, with a smoother texture and fresh skin appearance. Hair returns softly and will not become coarser; it will grow back at the same rate and texture as before the treatment.
Your clinician will discuss with you the post-care steps following your treatment and the best intervals between your dermaplaning treatment.
Ready to Give Your Skin a Boost?
Book a consultation today with one of our expert clinicians here at Beacon Dermatology to get a skin assessment and determine the best medical-grade facial for you.
Tip: ask your clinicians how to maintain radiant and youthful-looking skin with medical-grade skincare products!