High Intensity Focused Ultrasound skin tightening, or HIFU for short, is a procedure that uses targeted ultrasound technology to help with signs of aging such as skin tone, texture, loss of elasticity and sagging skin. A HIFU treatment is an innovative alternative to cosmetic surgery since it provides many of the same benefits without the dangers of surgery-related complications or extended periods of downtime.
In this post, we explain how the HIFU technology works and what you can expect from this treatment.
What is HIFU ?
So, what is a HIFU treatment? This type of procedure does not use creams, peels or serums to achieve smooth and supple skin. Instead, it uses focused ultrasound energy to stimulate collagen production deep within the skin's layers.
Ultrasound energy comes from sound waves that have a higher frequency than what the human ear can detect. These waves carry mechanical energy, which can transform into heat or motion upon striking a material. It's this energy transfer that is harnessed during a HIFU treatment. The deeper layers of the skin are essentially "injured" and the body repairs the micro injuries by producing more collagen and elastin.
The skin is composed of many layers, the thickest of which is the dermis. The dermis sits above the subcutaneous tissue and beneath the epidermis (the skin's outer layer). It is this layer that is primarily composed of collagen and other proteins that give the skin its structure.
When ultrasound energy hits the dermis layer, it injures the cells, stimulating collagen production. This new collagen is firmer and tighter, giving the skin a more youthful look and strengthening the framework.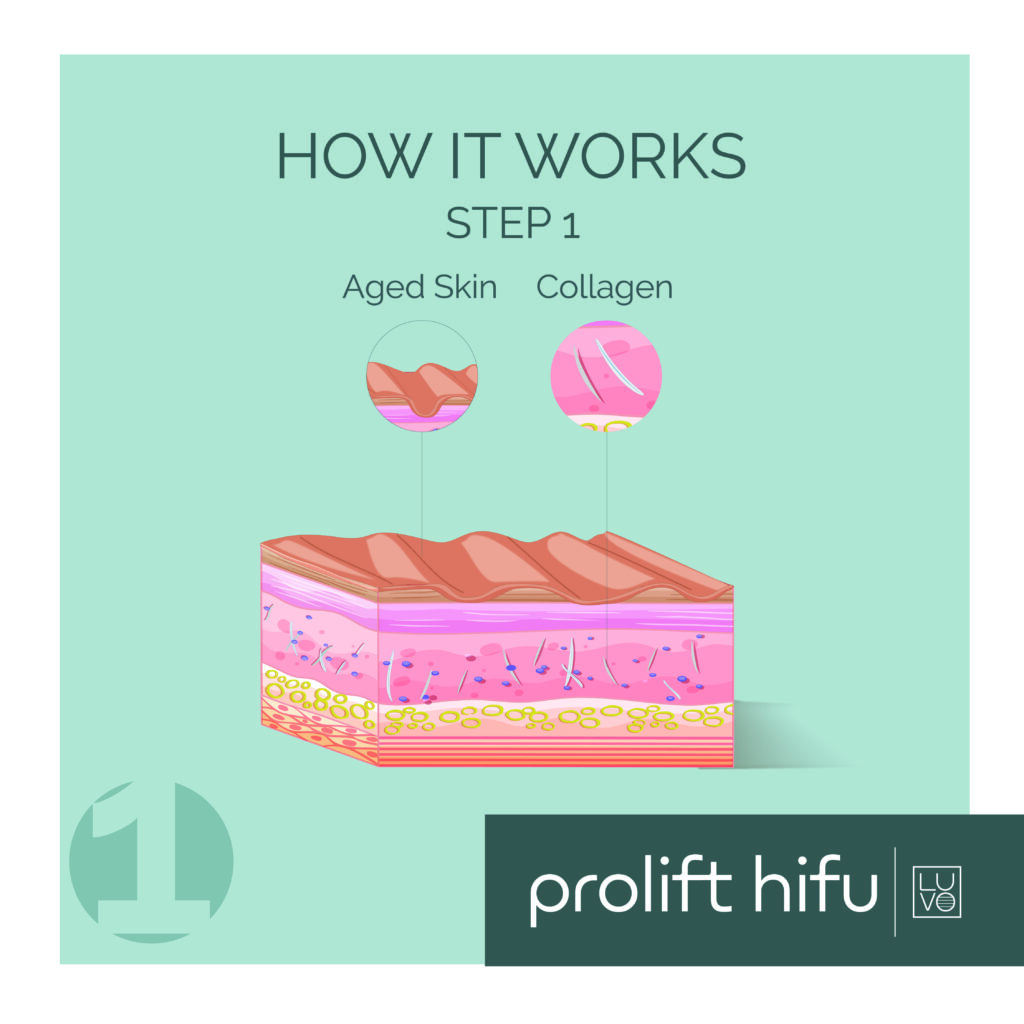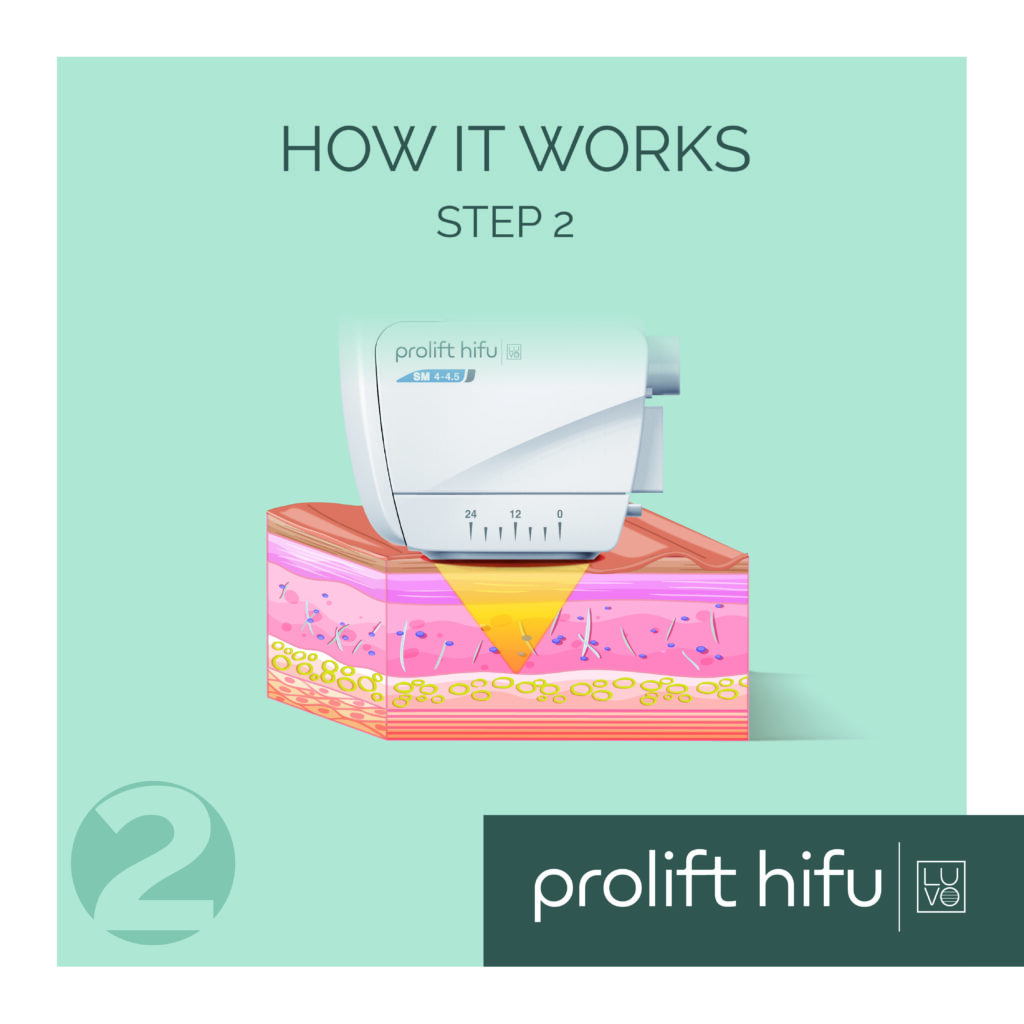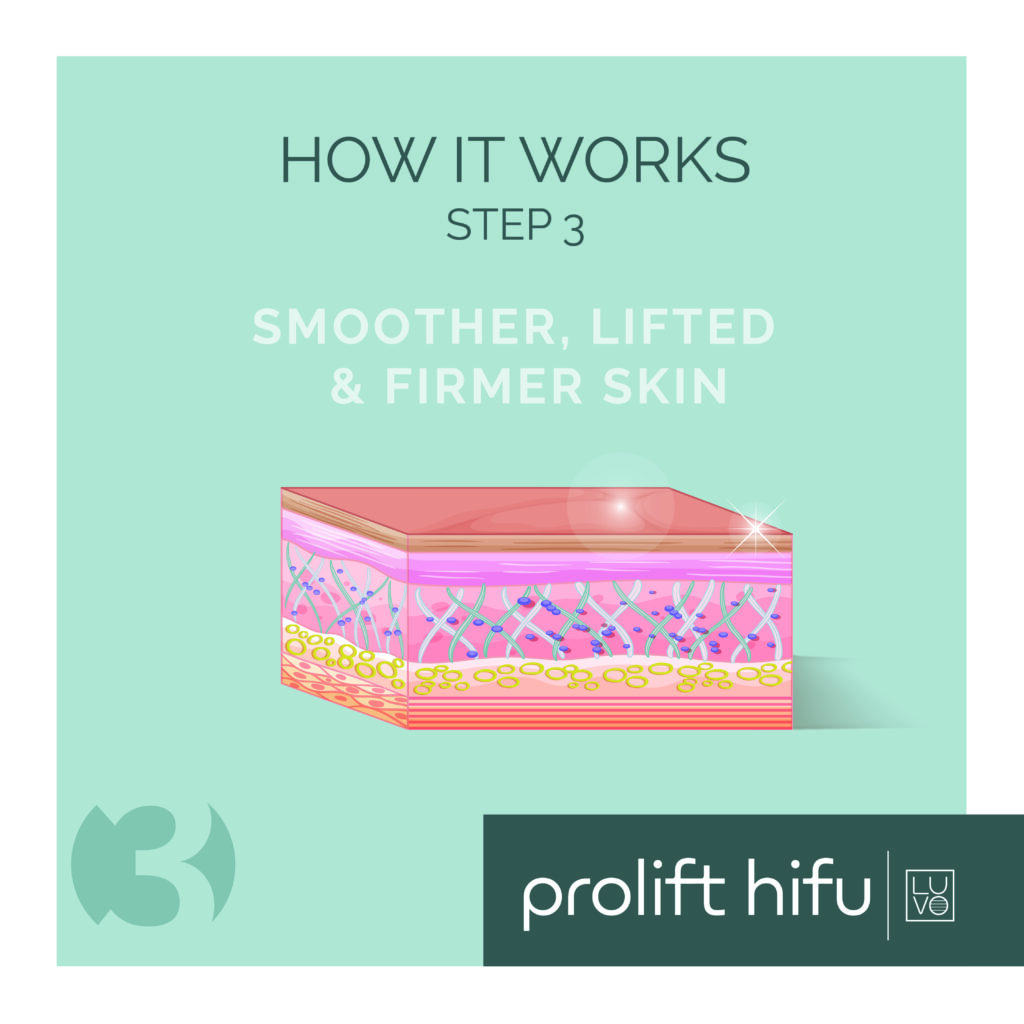 What to Expect During Treatment
Before the treatment the technician marks a non-permanent "grid" on the face in order to avoid treating the skin over nerves and bone. Next an ultra sound gel will be applied to the face. This helps the device move smoothly over the skin. The technician treats one area of the face before moving on to the next.
Does a HIFU Treatment Hurt?
This treatment is entirely non-invasive, meaning no incisions or injections are involved. The whole procedure usually takes about one hour to complete and does not require any downtime. Some may report feeling discomfort; however, it should never feel painful. Patients are encouraged to let the ultrasound technician know if the treatment becomes uncomfortable at any point. Many of our patients describe HIFU as line of tiny zaps. Slight swelling and redness may occur after treatment but usually dissipates within a few hours.
Benefits of a HIFU
There are many benefits of HIFU, the most notable being that it is an extremely safe, non-invasive treatment. Plus, there are its many aesthetic benefits too, including:
Tighter skin
A more "lifted" look particularly for brows and jowls
Firmer skin
More even skin tone
In addition to these many aesthetic perks, a HIFU facial requires minimal to no downtime, can be performed in under an hour and produces long-lasting results. We recommend having 2-3 HIFU treatments per year to excel and maintain your results.
What Are the Side Effects?
This procedure is generally safe for most people, but it's best to speak with a Laser Technician before booking a treatment.
Please also keep in mind these potential side effects and risks before undergoing a HIFU facial:
Swelling
Rashes
Redness
Bruising
Irritation or pain
Can HIFU be Combined With Other Treatments?
Yes! ProLift HIFU pairs perfectly with ProLift RF Microneedling, or Refresh RF as well as other skin resurfacing treatments such as Fraxel. Our most popular combination of HIFU is the triple threat! HIFU + RF Microneedling + Refresh RF. This combination is a very nice alternative to a blepharoplasty without the pain and downtime.
Book a Consultation
Interested in learning more about what a HIFU skin tightening can do for you? Reach out to the experts at Beacon Dermatology today! Our team will be happy to go over the procedure with you before determining whether it's a good fit.
Contact us today to book a consultation.